Seafood, Glorious Seafood
Seafood, Glorious Seafood !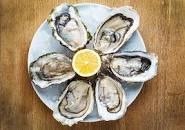 We love seafood and Scotland produces a lot of very high-quality seafood each year. Unfortunately, a lot goes abroad but you can find it in Edinburgh and here is where…
One of our favourite places is located at the East End of Princes Street. It's called The Café Royal and you can get a proper seafood platter there which is excellent. The café itself is split into two parts; a bar, The Circle Bar, and a dining room, the Oyster Bar. It's a Victorian building close to the station and it's stunning inside. Well worth a visit.
Our next recommendation is Ondine, a massive favourite and one we have visited for many reasons like birthdays, anniversaries and just because we love it. The staff in Ondine are very attentive and the service is impeccable. There is a circular bar in the middle of the restaurant where the chefs work and you can sit and watch them whilst having a cocktail (we recommend their Margarita's) The food and wine are excellent as is the ambiance. Hot and cold platters are available as well as mussels, oysters and fish.
Lastly there is Fishers, owned by old friends of ours. Jake first opened in Leith, the port 'village' of Edinburgh and found success there. He then opened Fishers in the City which is equally successful. More informal than Ondine, Fishers service is different but just as good. See what's the dish of the day and go with the flow. It's great for lunch or dinner.